The COVID 19 global pandemic has brought the economy to a near halt. As we all settle into the groove of working from home, this is the perfect time to focus on marketing material for projects that need traction or investment. Over the next few blogs we would like to show you some of the projects we have worked on this year and how it has benefited our clients. Your success is our success and if there is any way we can help boost your business during this period we would love to do so.
Visualization is one of the strongest tools available today to sell our work efficiently and effectively. We would like to showcase one such marketing video we did for a new restaurant by Mellow Mushroom in North Carolina.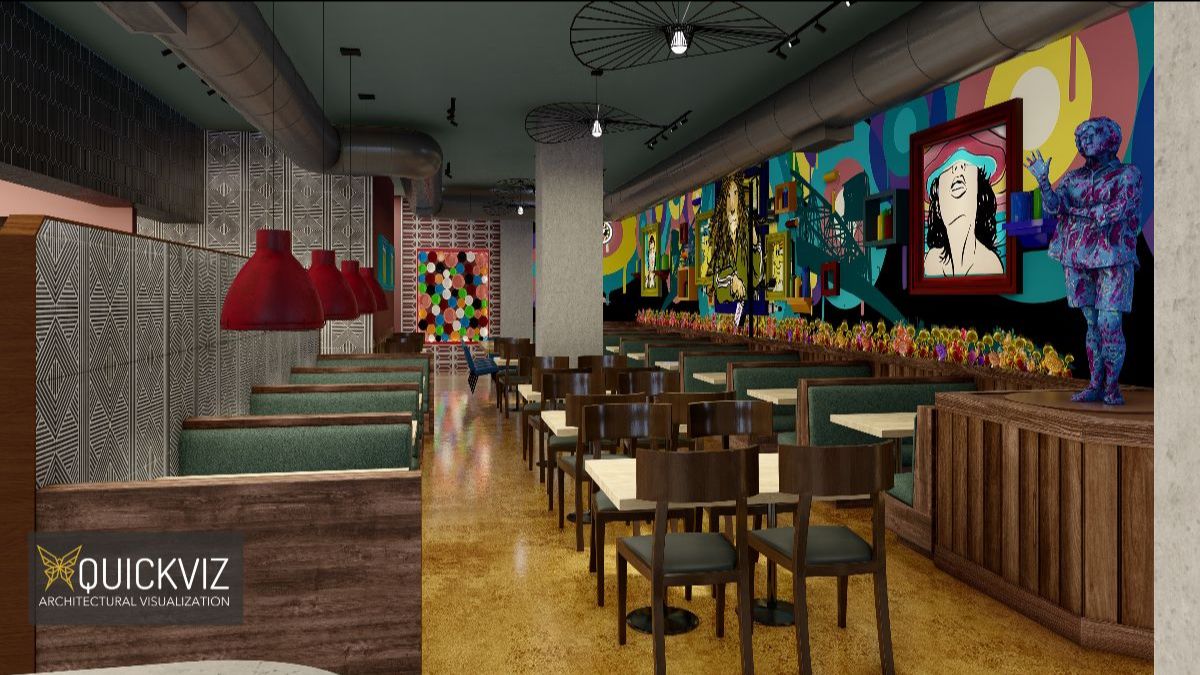 A good visualization video is an invaluable addition to any project presentation. The beauty of using a visualization video to present your design is that it not only attracts, but holds your audience's attention through the sense of journey a video conveys. Investing in a good visualization video dramatically increases your chances of receiving approval success or funding for an architectural project.
The journey into the world of Mellow Mushroom starts at the very entry of the cafe through the curvilinear edge of a plaza dotted with a host of beautiful tall plantations providing shaded seating for casual hangouts.
The see-through glass doors create an inviting entryway allowing visitors to gravitate inward towards the welcoming vibe. The tall glass panels in the cafe allow for ample light to pour in, making the ambience light and fluffy throughout the day.
This cafe is a sensory playground of all kinds of textures and motifs for the perfect R'n'R. The walls adorn all kinds of pop culture art and electric guitars to help people sit back and enjoy their time at their favorite cafe.
 Our team at QuickViz specializes in the art of creating experiences using digital visualization. We can help you and your clients market your project through photorealistic visuals.
Please reach out to us at +1-678-999-2706 Ext 108 or mharrison@quickviz.com when you require any of our Rendering or CAD services.
Until next month!